30-60ton/D Wheat Flour Machine
The 30-60ton/d wheat flour machine is steel structure, which means the plansifter is placed on the platform, and the sieved material does not need to be delivered into the mill by elevator but by gravity. This flour mill project design can greatly save fan power, simplify fan net to make it easy to control; the classifying outside sifter can save bolting area. Besides, the steel structure flour mill project also has compact structure, good appearance and easy to install and operate.
Wheat flour machine specification
Cleaning part: this part adopts the cleaning technology of 2 times of sieving, 2 times of threshing, 2 times of destoning, one time of wheat brushing, 2 times of magnetic separation and one time of wind suction. It is mainly composed by raw wheat cleaning process and net grain cleaning process, which can fully guarantee the quality of wheat when feeding into the flour mill and also the working environment.
Main equipments:
| Equipment name | Number |
| --- | --- |
| Magnetic selectors | 2 sets |
| High efficiency vibrating and threshing machine | 1 set |
| Threshing machine | 1 set |
| De-stone and washing machine | 1 set |
| Rotary sieve classifier | 1 set |
| Suction separator | 1 set |
Wheat flour milling part: this section adopts the milling technology of 4 bran milling, 3 core milling and 1 slag milling. Especially the using of classifying screen can efficiently increase sieving area, which fully assures flour quality, productivity and output rate.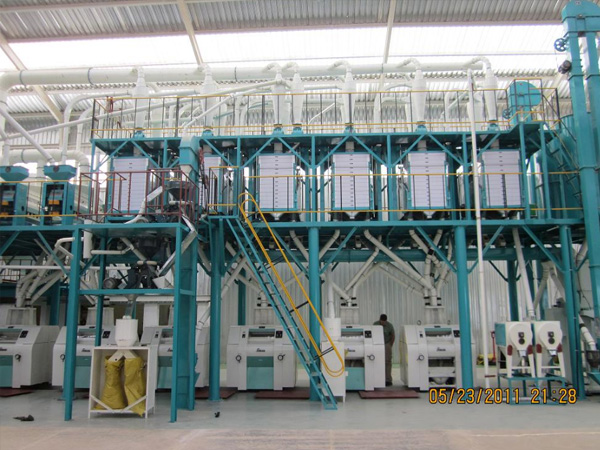 40tpd wheat flour machine
Main equipments:
| Equipment name | Number |
| --- | --- |
| 6F2250 wheat flour machine | 4 sets |
| 6F2240 wheat flour machine | 4 sets |
| FSFJ83*12*2 efficient plansifter | 2 sets |
| Classifying screen | 4 sets |
| FFPD35 bran brusher | 1 sets |

Wheat flour milling machine technical data
| Capacity | 30TPD, 40TPD, 50TPD, 60TPD |
| --- | --- |
| Flour extraction rate | 1st grade 68-75% |
| Flour grades | 1st grade, 2nd grade and special flour |
| Quality standard | GB1355 |
| Power | About 80kw |
| Workshop requirements | 24m*7m*6.5m |

Below is a video of a 30TPD wheat flour mill plant in Chile.
Wheat flour mill project advantages:
Silent running with little vibration, which produces little or even no noise, meeting environmental requirement.
This flour mill project has simple but brief structure, which is also easy to operate and maintain.
It needs low investment but will bring high return.
All the contacting parts are made from stainless steel that meets food hygiene standard and there are no corrosion hazards.