Medium Size Flour Mill Machine
Flour mill machine are widely used across the globe due to the increase in demand of wheat. Medium size flour machines of 30-60 TPD are basically used for commercial purpose as they are capable of heavy duty & giving better performance. Medium size flour mill machine gives you a better grinding and good quality flour as compared to other machines available in the global market, as it is smaller in size with a compact structure which makes it easy to maintain and install. This machine not only helps to mill the grain but also separates the flour and bran giving you a better finished quality product, divided into separate types such as soft, medium and high quality wheat. It also increases the returns on the investment made but also gives you high desirable output saving a lot of labor.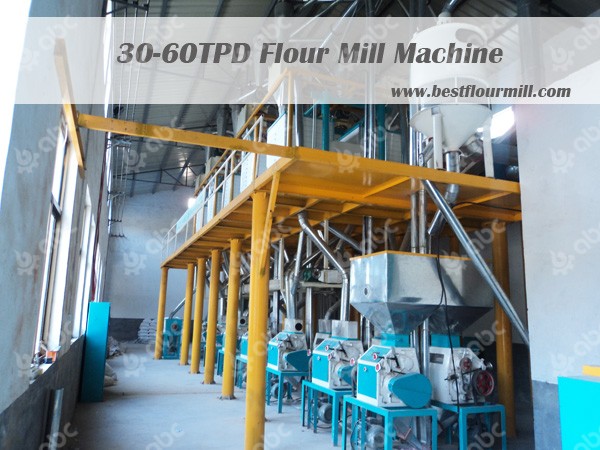 Wheat is highly produced in the world, which makes it consumption higher. As per the survey made by CAGR, global flour market is expecting to have a yearly increase of 100 million from the period of 2016 to 2022 (which was 200 million in the year 2015). As Asia has been a huge contributor of wheat in flour market, it has also been a huge part in consumption due to its increase in population, as per the forecast Asia Pacific is expected to lead the flour market followed by the Middle Eastern countries, Europe & North America.
If you want to have a medium size flour mill machine, then you need to gather all required information, which includes proper location, facility for machinery setup, section for milling, expenses for raw materials & utilities. An Entrepreneur who is willing to have manufacturing opportunities with stable/higher returns can get into this business with a small amount of investment. A business of medium size flour machine needs to have a decent amount of capital to run, so in order to start a business one can use his personal cash or take a loan to finance & maintain his equipment. 30-60 TPD flour mill machines can give you grade 1 & 2 flour which can be used for domestic as well as it has a potential for export market. It will bring you wheat or corn flour depending on the type of raw material, as it basically segmented on the raw material & technology used in the medium size flour machine. A flour machine can help you make bread, bakery products, pasta & biscuits which are not only popular but also seeing the increase in the demand across the globe, which is backed up by the government as an important target for investment & returns on their investment due to their larger market size and growth in coming years, Medium size flour machines can give you enough production which can be used for direct & indirect mode of sales in supermarkets, local stores & also online selling.
In summary, I would suggest flour milling is one of the best profitable option which will help earn good amount of profits, only thing is require is proper market research and enough capital to start the business and get it going.